Posted by Kristi on 13th Nov 2017
One of the key factors to interior decorating is the use of color. The more creative the color, the more interesting the room. It has been scientifically proven that tones and moods will be dramatically altered simply by the use of color in a room. When it comes to drapery fabric, you want to include more than just color; you want to make sure you play with the use of patters and styles. A room with red accents can look formal and crisp with one style of red drapery, or whimsical and playful with another type of red drapery. The difference will be in the use of patterns, even on the same shade of red. When it comes to drapery fabric, the options are endless. The hardest part may be simply knowing where to start.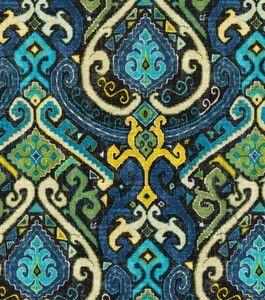 How do you Want your Room to Feel?
A room's mood will be affected by much more than just a color. Shapes and patterns will have a direct effect on how the room feels. That "feel" is the emotion you get when you walk into a particular space. The feeling you get from a formal room is quite different then the feeling you get from a child's playroom. This is all created through colors, patterns, and designs. The first thing to consider when decorating your space is how you want your guests to feel when they enter this particular room. Waverly's home decor fabric has created some very whimsical patterns that brought a lighthearted and joyful feeling to a room. Adding one of these bold designs will instantly brighten up your room and create a more playful feel. Barrow Industries has also created beautifully patterned drapery, but with of a more neutral color base. Using colorful patterned drapery works well when combined with solid colored furniture and accents.
What Colors Did You Have in Mind?

Another factor in your room design is your use of colors. A room does not need to be a single, solid color. In fact, accenting your color options with contrasting tones can enhance the overall color of your room. Sunbrella fabric has a line of brightly colored solid toned drapery that will bring out the colors of your space. Magnolia fabrics also created a line of solid colored drapery, but has stuck to more of the earthy and neutral colors; these also accent, but they do so by working more in the background than as a focal point. Your windows bring the light into your room: the use of colors around them will play into how your room looks overall.
What is your Price Range?

No matter what your taste, you need to be able to work within a set budget. Drapery is both very compromising and very forgiving when it comes to budget. It goes without saying that you will get what you pay for, but with drapery, you can choose some very high-quality fabric and patterns and still be within a very economical budget.
Your room style as a whole will be dependent on your use of colors, patterns, and styles. Your windows, no matter how small, will always be one of the key features to your room. By using a creative combination, you can significantly increase your window style, and that, in turn, will enhance the entire look and feel of your room. At Swanky Fabrics, we have hundreds of style and color options for you to choose from. Browse through our selection from the comfort of your home. When you are ready to narrow down your selections, contact us. We will be happy to help.