Posted by Kristi on 29th Dec 2017
Is online shopping a good way to buy fabrics? It could be; it does, after all, grant access to great fabrics like Fabricut fabrics and Duralee fabrics—but you should keep these five tips in mind.
Read the Descriptions Thoroughly

When you buy fabric online, you're losing the ability to touch it first, so you won't know how it feels, how it stretches, or how strong or delicate it is. Make sure you read the description thoroughly for fiber content and other details. It's also a good idea to look for recognizable brands, like Fabricut fabrics and Duralee fabrics, so you know what you're getting.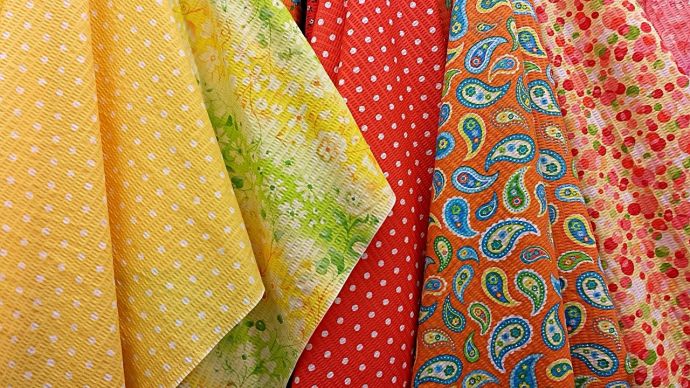 Pay Attention to Fabric Width

Fabric bolts come in different widths. The two most common that you'll often see with top brands like Fabricut fabrics and Duralee fabrics are 54" and 56". Don't make assumptions about width without checking first—you don't want to end up with too little fabric! If it's not listed on the site, contact the company and ask.
Consider Extra Costs

In addition to the shipping fees that are standard with just about any online purchase, Duralee fabrics and Fabricut fabrics included, when buying fabric, it's important to also consider duty fees and other taxes that may apply if the fabric is being shipped in from another country. Certain materials are subject to specific import taxes. Check in with the seller and do a little research on the extra costs that may be associated with importing that material from that country before you take the risk.
Get Familiar with the Return Policy

Because fabric has to be cut, it can't always be returned. This can cause problems when you're buying fabric online because you don't get to see or touch it first. Make sure you know what the return policy is before you buy fabric you're not sure about. Again, sticking with trusted brands, like Duralee fabrics or Fabricut fabrics, will reduce the risk of having to return the fabric.
Do a Local Cost Comparison

Buying online is certainly more convenient than having to search around at different brick and mortar stores for what you want, especially when it comes to fabrics that aren't readily available at every mall, and that aren't available in as much variety as you need to enable you to find everything you want all in one place. And sometimes you can find incredible deals one even the greatest fabric brands, like Fabricut fabrics or Duralee fabrics, online, too.
However, it's always a good idea to check in at your local fabric store from time to time to see what their selection of Duralee fabrics and Fabricut fabrics is, and to get a feel for what you'd pay to buy your fabric locally. You might discover that you can get exactly what you want for a lower price at your local retailer. And if not, then at least you know you're making the right decision by buying online. It's always a good thing to be an informed consumer.
Are you looking to buy Fabricut fabrics, Duralee fabrics, or other great, high quality fabric brands? Check out our selection at Swanky Fabrics. Our selection of trusted brands makes it easy, safe, and convenient for you to buy your fabric online.